Support
One of APPEL's primary goals is to support Supervisors and Preceptors for pharmacy students to undertake their roles. This support is provided in a number of ways.
Handbooks
APPEL develops year-specific handbooks to support trainers to deliver experiential learning placements.
A copy of the handbook can be downloaded here.
Practice Educators
Each School of Pharmacy has one or two Practice Educators, whose role is to support those supervising or acting as preceptors to the pharmacy students who have been placed by APPEL. Each Practice Educator has extensive pharmacy practice experience and works part-time with the schools of pharmacy. This practice-based experience means our Practice Educators are well placed to assist with any issues arising during a placement. If you have any concerns about a student on placement please contact APPEL.  We will be happy to arrange a call or visit from a Practice Educator, if required. Details on all the APPEL team, including Practice Educators, can be found here .
Helpdesk Support
The APPEL operations team can be contacted during office hours at ops@appel.ie or 01-4025129 if you have any queries or concerns.
Frequently Asked Questions
Answers to the questions most frequently asked by Supervisors can be found here .
Information and Training Events
APPEL will be holding a number of 2nd Year Placement Supervisors' events this year, as per below.  Please keep an eye on the APPEL website for updates. We look forward to meeting both returning and new APPEL Supervisors at these events.
| | | | |
| --- | --- | --- | --- |
| Upcoming Training Events | Date | Time | Location |
| 2nd Year Supervisor Training | 6th November | 8pm-10pm | UCC |
| 2nd Year Supervisor Training | 13th November | 8pm-10pm | Louis Fitzgerald Hotel, Naas Road, Newlands Cross, Dublin 22 |
| 2nd Year Supervisor Training | 21st November | 8pm-10pm | RCSI |
Please contact ops@appel.ie if you would like to attend one of these events.
Online Trainer Training Programme
The APPEL Online Trainer Training Programme has recently launched. This will allow Supervisors, Preceptors, and Senior Preceptors to complete the required training when and where it suits them. The APPEL training programme is open to all pharmacists and to anyone involved in supervising APPEL students on placement. If you are interested in completing your training online, please contact ops@appel.ie.
Continuing Professional Development (CPD)
"Continuing professional development (CPD) is a continual process of lifelong learning which is focused on implementing learning in your professional practice and improving outcomes for patients". (www.iiop.ie)
Training a student offers excellent CPD opportunities, including learning through teaching, peer-to-peer networking at APPEL events, learning from students, and reflecting on and developing Core Competencies including leadership skills and human resources management skills.
In 2017, 84% of our Supervisors agreed that supervising a student contributed to their CPD.
APPEL has developed sample CPD cycles, based on some feedback that pharmacists shared regarding their experiences of supervising students.  These cycles are intended to illustrate how pharmacists can incorporate their own experiences of supervising students into their own professional learning journeys.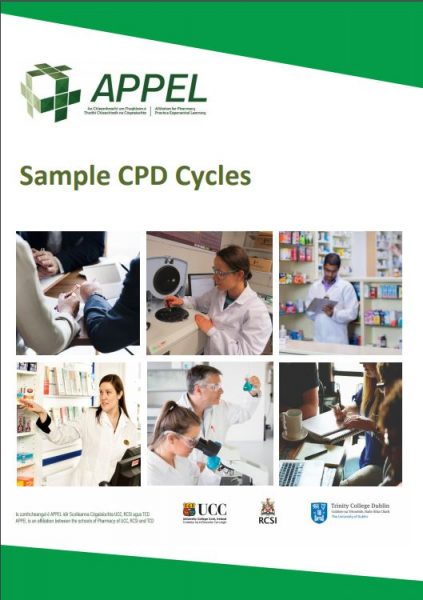 CPD Cycle Book